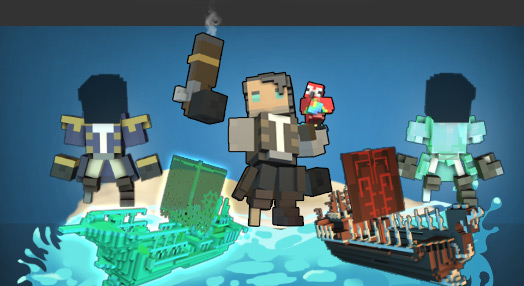 Legends are told on the high seas of the infamous pirate, Block Beard, that once sailed the Trovian seas, looting and plundering everywhere his travels took him. No one knows what became of Block Beard or his treasure…until now, that is. Now you can loot and plunder all the coolest Pirate gear and unlock the Pirate class at the same time. That's like a zillion glim's worth of loot. Shiver me timbers - Block Beard's treasure, indeed.
Includes:
Pirate Captain Class
SS Draconic
Draconic Sail
SS Dutchman
Dutchman Sail
Master of Commanding Costume
Ghost Pirate Costume
Digital Downloads Terms and Conditions
Digital download is a software-only purchase; Trion will not send you anything. This software will need to be downloaded to your computer, but no physical box, discs, or other materials will be provided to you. You must have this software for each account on which you wish it to be enabled; you must download the game's files to each machine on which you wish to play this game. The download and use of this game is subject to the End User License Agreement, Terms of Use , and Privacy Policy.
This is an Internet-only game which requires players to connect to Trion servers via their own Internet connections. Players are responsible for their own Internet connection service and all Internet-related fees. Trion Worlds does not ensure continuous or error-free access, use, or availability of any game content, feature, gameplay, or server and may change, modify, disable, suspend, or remove any such content, feature, gameplay, or server at its sole discretion.