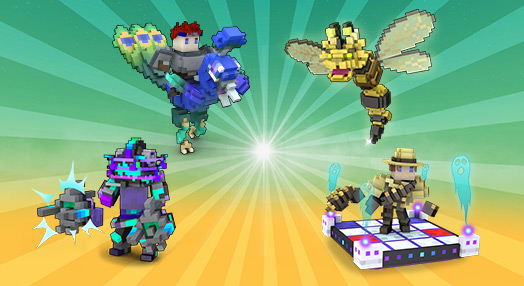 Get in on the buzz thanks to this utterly un-bee-lievable new dragon: Yzzuli of the Honeybreeze!
Never purchased a Trove pack before? You'll also get the fearsome Disaeon the Immortal dragon as a FREE BONUS.
In addition to scoring you a whole heaping helping of Trove-y goodness, you'll also be helping dish out a whole heap of real life goodness by supporting the Children's Miracle Network Hospitals.
Yzzuli of the Honeybreeze Dragon
Haunted House Dancefloor
2 Cute Costumes

Time-stranded Paleontologist
Dubstepping Desperado

3 Mighty Mounts

Trovian Mammoth
Kishann, Soul of Splendor
Bawk Mom

8 Awesome Allies

Pizzanati Conspiraslicist
Noodlis, the Ensorcelled
Kiara, Chrono Kitty
Fizzy Pink Octopus
Neonate Necrowmancer
Oblivion Bunny
Neon Nanodrone
Junebug's Jubilee Cake

9 Stunning Styles

Mastery Hyperpin Helmet
Doom Drake
Geodian Gemcap
Bulging Brain
Halvocado Helmet
Purple Pacifier
Good Goatee
Porky Pew-Pewer
Star Stalker
Trion Worlds, Inc. will donate $5,000 for every 700 units sold of Trove Hearty Party Pack 1, up to a maximum amount of US$20,000, to Children's Miracle Network Hospitals (a tax exempt 501(c)(3) organization located at 205 W 700 S, Salt Lake City, UT 84101 ). Donations will be made for all eligible packs sold worldwide (excluding SC, AL, IL, and MA) between 12:00 AM PDT, August 7, 2018 through 11:59 pm PDT, September 4, 2018. This contribution is not tax deductible.
Digital Downloads Terms and Conditions
Digital download is a software-only purchase; Trion will not send you anything. This software will need to be downloaded to your computer, but no physical box, discs, or other materials will be provided to you. You must have this software for each account on which you wish it to be enabled; you must download the game's files to each machine on which you wish to play this game. The download and use of this game is subject to the End User License Agreement, Terms of Use , and Privacy Policy.
This is an Internet-only game which requires players to connect to Trion servers via their own Internet connections. Players are responsible for their own Internet connection service and all Internet-related fees. A valid credit card is required to play this game and additional, recurring subscription fees apply. Trion Worlds does not ensure continuous or error-free access, use, or availability of any game content, feature, gameplay, or server and may change, modify, disable, suspend, or remove any such content, feature, gameplay, or server at its sole discretion.